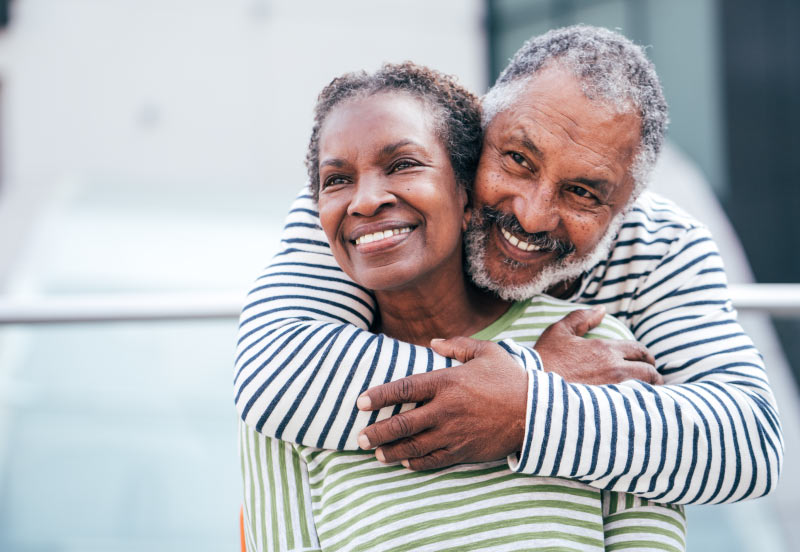 Dental implants and dentures are part of a subcategory of dentistry called "restoration." This type of dentistry fixes gaps in your smile caused by missing or damaged teeth, restoring it so you can eat, talk and smile with confidence again. Villa Vista Dental in Elk Grove, CA, offers both dental implants and dentures. We want you to understand the differences before deciding which choice is best for you. As always, we'll be here to help you make the best decision for your particular situation.
Dental Implants
If you want something that is as close to your natural teeth as possible, then implants are the way to go. A titanium screw is surgically inserted into your healthy jawbone below the gumline where your tooth root used to be. As it heals, the jawbone grows around the screw. Once the healing is complete, the implant is topped with a restoration that matches the rest of your teeth. It functions just like a real tooth. You brush and floss it just as you would a natural tooth. Eating and speaking are no different with a dental implant than with a regular tooth. It is possible to have multiple dental implants, but this procedure is not usually the best choice if you have many teeth that need replacing.
Partial Dentures
This is an affordable option if you are missing a string of teeth. Rather than have an implant inserted for each tooth, you can opt for a partial denture that is held in place on the sides by either implants or functional teeth. This is a hybrid between implants and dentures. Your restoration will be custom-made to match your teeth and look as realistic as possible.
Full Dentures
If all, many, or most of your teeth need to be replaced then this is a choice to consider. Great advances have been made in denture technology in recent years. George Washington probably would have smiled a lot more if he had access to the comfortable and realistic dentures that are made today. No more nightmare dentures held together with metal springs! Full dentures are kept in place with denture adhesive or mini dental implants. Dentures are easy to clean and maintain.
Smile Restorations at Villa Vista Dentistry
As you can see, there are more tooth replacement options available than ever before. Sometimes that makes it harder to make a decision! Help is here in Elk Grove, California. Our team can assess your individual case and make recommendations based on your budget, your oral health, and your smile expectations. Contact us today for a consultation.
Call us today to learn more about dental implants!