Dental Veneers

in Elk Grove, CA

Looking to create the smile of your dreams? With the help of veneers, you can cover tooth imperfections and transform the appearance of your smile in both dramatic and subtle ways. We believe everyone deserves to live life behind a beautiful, confident smile. Schedule your veneers consultation today!
What Are Veneers?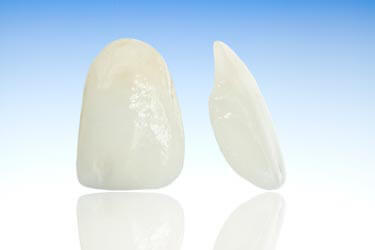 Veneers are a popular cosmetic treatment that gives you the power to alter your smile. They're thin porcelain shells that are permanently bonded to the outside surface of your teeth. Veneers are custom-made to fit your needs and naturally blend in with your smile.
The veneers procedure takes place in two phases. First, we'll discuss your smile goals and design your new smile. Then, we'll prep your teeth by removing a thin layer of enamel so your veneers don't feel too bulky. Once the enamel is removed, we'll take impressions of your teeth and send them to our lab so they can create your custom veneers. When we receive your veneers from our lab, we'll make sure they fit properly and bond them onto your teeth.
The great thing about veneers is that you're able to treat them like you would your other teeth. You won't have any special instructions — you can brush and floss normally! With proper care, your veneers can last a lifetime.
Uses for Dental Veneers
Veneers are used to cover and correct mild to moderate imperfections in your teeth. They can help with a wide range of aesthetic problems such as:
Covering chips & cracks in teeth
Lengthening teeth
Closing small gaps between teeth
Whitening teeth that are too discolored for whitening treatments
Cost of Dental Veneers
The cost of veneers varies depending on the number of veneers you decide to get. During your smile consultation, we'll discuss your goals and will provide an accurate price estimate. If you think your dream smile is financially out of reach, think again. At Villa Vista Dental, we work with you to maximize your insurance benefits as well as offer multiple patient financing options so you can fit a stunning smile into your budget.
Create a beautiful, flawless smile!
Veneers FAQ
Are veneers permanent?
Veneers are a permanent cosmetic treatment that works to correct tooth shape, size, and whiten your teeth. Beneath your veneers are your natural teeth that must be shaped to bond to the porcelain shells. Due to this shaping, veneers are irreversible. However, most patients are highly satisfied with the results and aren't interested in removing them. With proper care, your veneers can last up to fifteen years or more.
Does getting veneers hurt?
The most invasive portion of the veneers process is trimming the enamel off of your natural tooth. While many people do not report severe pain, you may be given a local anesthetic to numb the area where the dental work will take place.
Am I a candidate for veneers?
Before beginning the placement process, a thorough examination of your mouth and teeth will be conducted. Some key factors in deciding whether to move forward with the process are the amount of enamel you have, the alignment of your teeth, and the veneers' cost. While veneers can correct minor misalignments, your natural teeth must be somewhat straight to bond to the shells. In addition, not having enough enamel can inhibit our ability to remove a thin layer for bondage. Due to the customization of porcelain veneers, they can be a more expensive cosmetic treatment. During your consultation, we will thoroughly discuss cost and your financial options.
What is the veneers procedure like?
The veneers procedure occurs in steps. During your initial consultation, we will discuss what you're hoping to correct about your smile, your dental hygiene, and some of your dental habits. Once it's determined you are a viable candidate, we will schedule a second appointment to prep your natural teeth and take molds. After the prep work is completed, your molds will be sent to a lab to create your custom veneers. Finally, we will begin the process of bonding your veneers to your teeth. During the bonding portion, we will examine your bite and adjust placement as necessary.
Back to Top ↑