Professional Teeth Whitening
A whiter smile can quickly and easily boost your self-esteem and give you added confidence in your personal and professional interactions. At Villa Vista Dental, we want to make sure you love your smile, which is why we offer professional teeth whitening at our Elk Grove dental office.
Causes of Teeth Stains
Stains on your teeth can come from a variety of things, including diet and even genetics. There are two different types of stains.
Early exposure to too much fluoride
Early childhood dental trauma that caused damage to a developing permanent tooth
Dental trauma that caused internal bleeding to discolor the tooth
Exposure to certain medications (typically tetracyclines) either before birth or in early childhood
Intrinsic stains occur when the inner layer of the tooth develops a yellow tint. Some common causes include:
Coffee
Wine
Dark berries
Tomato sauce
Smoking
Our Teeth Whitening Services
We have two convenient ways to help you get a beautifully white smile. Whether you want to visit us on your lunch break or whiten in the convenience of your own home, we have something that will work for you!
ZOOM!® One-Visit Whitening
If you have an hour to spare, you can get a whiter smile. Our in-office whitening treatment can brighten your teeth by up to 8 shades in a single visit. With the ZOOM! whitening system, we apply a highly concentrated whitening gel directly to your teeth. Don't worry – we make sure your teeth, cheeks, and lips are protected! The gel stays on for a few 15 to 20-minute increments totaling about an hour. The results are immediate, so you'll go back to your daily schedule with a whiter smile.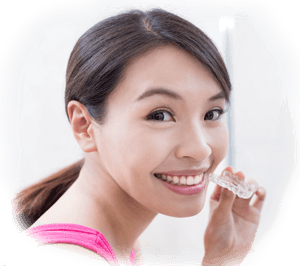 Custom Take-Home Whitening
Would you like to whiten your teeth on your own time and in the comfort of your own home? Dr. Tin can create a set of custom whitening trays for you to use with our professional-strength gel. We just need to take a couple of quick impressions to have your trays made, and once they're ready, come on by to pick them up. When you have the time, fill the trays with the gel and wear them for the recommended amount of time that we discuss at your consultation. While you'll notice some immediate results, continue to use the whitening kit on our recommended schedule to see full results.
Whitening FAQs
What are the benefits of whitening my teeth?
Whitening your teeth can provide so many benefits, which is why it's one of our favorite smile improvement treatments.
Boosts self-esteem
Enhances appearance
Reduces look of wrinkles
Makes you seem friendlier
Improves interactions
Encourages continued good dental hygiene
How can I whiten my teeth in one day?
The fastest way to whiten your teeth is with an in-office whitening session. We provide ZOOM!® one-visit whitening which can lighten your teeth up to eight shades in just a single visit to our office. We'll handle the entire process so all you have to do is sit back and relax. In as little as one hour, you'll leave our office flaunting a dramatically brighter smile!
Is teeth whitening permanent?
While teeth whitening isn't a permanent cosmetic treatment, it can last a long time if you properly care for your teeth afterwards. The best way to make your pearly whites last is to practice good oral hygiene (brushing and flossing every day), get biannual dental cleanings, and stay away from foods and products that are known for staining teeth.
Boost your confidence with a brighter,
whiter smile!
Back to Top ↑