Meet Dr. Ricky Tin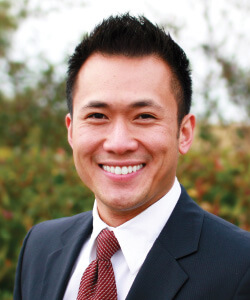 Dr. Ricky Tin grew up in the Sacramento and Elk Grove Area. He attended UC Davis and went on to achieve his Doctorate of Dental Surgery from the prestigious University of the Pacific School of Dentistry. Dr. Tin prides himself on being a gentle and compassionate doctor who relates to the fear and anxiety some patients feel when visiting a dental office. Due to his own traumatic experiences as a patient, Dr. Tin has really gone the extra mile to create a place for pleasant dental visits and to help those who share his own "dental phobia." He designed Villa Vista Dental to have a calming and relaxing environment, complete with all the amenities to make visits to the dentist as comfortable and convenient as possible.
Dr. Tin stays up to date with the latest advancements in dental technology and treatments to provide his patients with the most gentle, convenient, and high-quality care possible. His passion for dentistry and commitment to excellence is reflected in his continual pursuit of advanced postdoctoral training and education. Dr. Tin has earned his Fellowship from the Academy of General Dentistry, joining an elite group of less than 5% of all general dentists who have passed a rigorous test and completed more than 500 hours of continuing educational courses.

Dr. Tin loves being able to make a difference in the lives of his patients. He enjoys getting to know his patients on a personal level, developing long-lasting relationships based on trust, skill, and above all, good communication. Dr. Tin lives with his wife and two kids in Elk Grove and is proud to serve the community he grew up in. In his spare time, he enjoys being outdoors, loves to travel, and is an avid runner and sports fan.
Dr. Tin's Professional Affiliations:
Dr. Tin Looks Forward To Meeting You!
Back to Top ↑